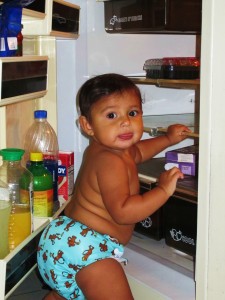 Cloth diapering is part of our routine and life style as we travel around the world with our toddler.  We've used them since she was born, and I've found myself relieved to use cloth diapering many times on the road.  It makes packing and traveling convenient because I don't have to worry or guess how many diapers I should pack or worry about finding the right diapers at the right price once I arrive at my destination.  Cloth diapering allows me to travel to countries that have poor sanitation and waste collection services without feeling guilty that disposable diapers are ending up in river beds, forests, and backyards.  Cloth diapering is comfortable and more healthy on my baby's bottom, relieving me of worry about diaper rashes and creams while we are traveling.
The following are great resources for everything you want to know about cloth diapering, from the benefits of using them, selecting the right ones for your baby and travel, using them, and washing them.
Cloth Diaper Experts
Places to Rent or Buy Cloth Diapers
Bloggers
Please email me if you have a blog dedicated to the subject of cloth diapering to include here.
Is there another reputable site that you think would be useful to include here?  Are you a blogger blogging on the topic of cloth diapering?  Email me and I'd be happy to take a look, make sure it's relevant for my readers, and include a link here.