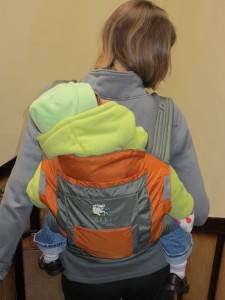 Baby wearing is critical to the most comfortable travel for a mom and/or dad traveling with an infant or toddler.  Beyond the known benefits including keeping baby safe and secure, it makes traveling with baby a lot easier.  It frees up hands when juggling passports and tickets, it keeps baby calm while standing in and going through airport security.  In many places of the world where sidewalks don't exist, it keeps baby much safer than in a stroller.  It helps baby adjust to jet lag and time zone changes.  Baby wearing is a must for traveling moms and dads.
The following sites have useful information on baby wearing, including research, the benefits, different styles, latest safety guidelines and recall information, and why it is one of the attachment parenting fundamentals:
Experts
Attachment Parenting International: Baby wearing
Attachment Parenting Doctor: Baby wearing
Bloggers
Evolutionary Parenting: Baby wearing
Is there another reputable site that you think would be useful to include here?  Are you a blogger blogging on this topic?  Email me and I'd be happy to take a look, make sure it's relevant for my readers, and include a link here.