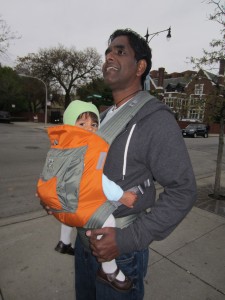 Attachment parenting is a style of parenting that I personally use and support. That is not to say other styles are wrong- this is just what works for my family.  The principles of attachment parenting, which essentially focus on using parent's intuition to meet the needs of an individual baby to provide them with love, safety, and security, I find is particularly useful as we travel.  Every member of our family needs to be flexible and adaptable, so this parenting style facilitates that for our family.  It  promotes breastfeeding, co-sleeping, and baby wearing which all make travel with a baby a million times easier, more comfortable, and more enjoyable for all of us.  It provides us with a framework to provide love, safety, and security to our children in a fluid environment.  Attachment parenting is critical for our frequently traveling family to stay happy, comfortable, and safe.
The following resources provide expert information and research on the benefits and how-to's of attachment parenting.
Experts
Dr. Sear's Attachment Parenting
Bloggers
Our Muddy Boots: The Honest Story of an Attached Family
Is there another reputable site that you think would be useful to include here?  Are you a blogger blogging on the topic of parenting styles with an emphasis on attachment parenting or evolutionary parenting?  Email me and I'd be happy to take a look, make sure it's relevant for my readers, and include a link here.