I am currently settled for a couple of months with my family (which at the moment includes my husband, 2.5 year old, 4 month old, and my mother) in Nairobi, Kenya for my work.  I say "settled" because two months is an exceptionally long time for my family to be anywhere for one period of time.
We are enjoying the cool (and dry!) mornings and nights of Nairobi after spending a total of one month in hot and humid India and Sri Lanka.  Nairobi is a bustling city with lots of things to do with little ones- my toddler is currently signed up for gymnastics, art, and ballet classes, and also tried a Zumba for Kids class last week, which she is just a little too young for right now.  So, I'll break up these Nairobi and Kenya posts by outings.
Our first week in Nairobi we kindly stayed with our dear friends, Laura and Matt, who have lived in Nairobi for almost the past two years.  They also have a 7 month old baby who was born in Nairobi, so they are also in the learning process of what is kid-friendly around the area.  Laura was also kind enough to put together a list of fun activities around Nairobi, and to take us to a few things around Karen, which is a relatively green and pleasant suburb of Nairobi.  Here is Laura's "Ultimate Day in Karen" described below, although we broke this up across two days since full days of activities with a toddler and infant are not really feasible anymore- naps are becoming much more precious these days!  If you have older kids (let's say age 5 and up), it is much more doable in a day.  All of the following activities I would say are fun for adults and older kids, interesting in short doses for toddlers, and easy to bring babies and toddlers along for the ride.
Morning: Visit an elephant orphanage and see babies feeding!
The elephant orphanage is definitely a must-visit in Nairobi.  The elephant orphanage cares for infant and toddler elephants that have lost their mothers, sadly mostly due to poaching.  After paying the entrance fee (500 Kenyan shillings per adult and child/ free for infant), we were led down a path which opened into a spacious dirt area with ropes around it.  Twelve large bottles (the size of a human torso) filled with milk There were warthogs wandering about and rolling around, which delighted my toddler, as well as a baby impala.  There are lovely views of the Nairobi National Park stretching out beyond.
The caretakers of the elephants bring the orphaned elephants out into the roped in area, and it is delightful to see the little elephants suckling from over-sized bottles.  They proceed to roll around in the mud, play with each other and sticks and balls around the area.  Some of them are quite friendly and will come up to give you a sniff.  The staff also describe each elephant's situation and provide information about elephants, conservation efforts, etc..  They also explain that it costs US$900/ month to feed each elephant.  For US$50/ month you are invited to adopt an elephant to contribute to these costs, and in exchange you will get monthly email updates about how your adoptee is doing (but they aren't pushy about it).  If you  have  adopted  an  elephant  you  can  also  request  in   advance  to  watch  your  adoptee  to  get  final  feeding  and  be  put  to   bed.
I will be honest in saying that I think the adults enjoyed it a bit more than the children.  My toddler loved seeing the baby elephants for the first 10 minutes or so, but then grew bored and was tired for her nap.  Lessons learned for bringing small toddlers/ infants: 1) bring sunhats and sunscreen as you will be standing outside in direct sunlight for at least an hour; 2) bring baby carriers for everyone; 3) bring camera with video capability as you will likely have some very cute animal and kid moments to capture; and 4) don't be disappointed if your toddler grows bored- they all have short attention spans; accept and encourage playing with sticks in dirt while you continue to enjoy the show.
Visit the Elephant Orphanage website here for more information about the Trust, adopting an elephant, directions, etc.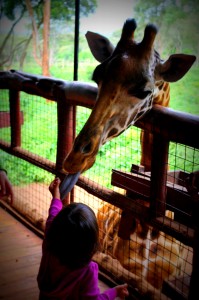 Lunch: Karen Blixen Coffee and Gardens
It has beautiful gardens here.  Our Nairobi friends recommend the  "kauchos," which are  the  Kenyan  version  of  nachos   and  are  "yummy."  Also, the  The  Karen  Blixen  ("Out  of  Africa")  museum  is  also  just  down  the  road if you want to pop in there.
Visit the Karen Blixen Coffee Gardens website here.
Afternoon: Visit the Kazuri Bead Factory, Giraffe Centre, and/or Marula Studios Recycled Flip Flop Art
At the giraffe centre you can feed,  observe  and  learn  about  the  reticulated  giraffe.  It was great fun feeding the giraffes and having them lick food pellets out of the palm of our hands with their long black tongues.  My daughter wasn't quite sure if she should be delighted or scared, but we all enjoyed ourselves.
If   you  go  right  after  the  elephant  orphanage,  it  will  likely  be   crowded.  If we were to do it again, knowing that we only spent about 20-30 minutes total at the giraffe feeding because my daughter had her fill in that time, we  actually could have down it in the morning around 9:30AM before heading to the elephant orphanage, or you can do it later in the day to avoid the crowds.
Visit the Giraffe Center website here to learn about the giraffe and conservation efforts.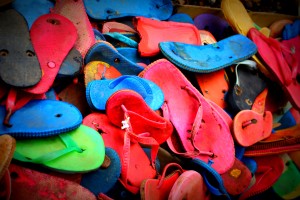 At Marula Studios you can get a small informal tour of their workshop where old flipflops are cleaned, dried, organized by color, then glued together and finally sculpted into lions, rhinos, warthogs, turtles, giraffes, zebras, etc.  It is an amazing colorful feast for the eyes, and a wonderful teaching opportunity for reusing unwanted, used stuff to turn into creative creations.  It has a lovely shop with lots of goods to buy, including other crafts made by other entrepreneurs around the Nairobi area.  I bought a little flipflop lion and warthog there for each of my children's travel treasures chests.  I also bought a little handmade bed with a momma bear, baby bear, and tiny pillows and quilts made by seven HIV+ single women in the Nairobi slum, Kibera.
There is also a little play structure with flipflop pieces underneath rather than stones, which is fun for little ones to tromp around in.  Additionally, there is a little outdoor cafe/ lunch area near the play structure if you want a moment to have a coffee while the little ones run around.  We saw an amazing chameleon there while we had lunch.
Visit Marula Studios website here to learn about how they recycle flip flops and glass to make beautiful artwork.
At the Kazuri Bead Factory you can get a  tour  and  learn  about  the  gorgeous,  handcrafted  beads  and  ceramics  that  provide   livelihood  generation  for  low-­‐income  women  in  the  area.  There  is  a  store  on  site.  Be   prepared  to  be  overwhelmed  by  the  options  of  jewelry!