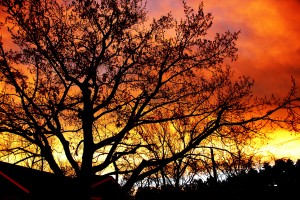 I've been grounded in Chicago since early October, and getting antsy and eager to see an old friend, I made a last minute decision to head to Boulder, Colorado with my toddler for a long weekend.  Boulder is a beautiful place, and pretty toddler-friendly at that.  I hope to go back soon for a little bit longer!
The flight was easy (and cheap!), and probably the last time I will be flying with my -almost- two year old on my lap, which is fine with me since at 30 weeks pregnant my belly is swelling with her little brother.  It really wasn't a big deal to have her nap on my for the two hour flight, using my belly as a pillow.  The only annoying part was being told by the flight attendant several times that I need to move her foot out of the aisle (it was sticking out two inches) to make room for the beverage cart when the plane hadn't even let the runway yet.
My dear friend from college lives in Steamboat, CO, but we decided to rent a little two bedroom cottage in Chataqua, Boulder for the weekend.  It's a quick 30 minute drive from the Denver airport, and beautiful.  Our cozy little craftsman cottage was perfect the weekend, nestled right along a hiking trail leading up to the Flatirons.  It's a merrily busy hiking area, with lots of trail runners and families enjoying the outdoors at all times of the day.  Add in the fluffy white snow fall we got on Saturday that dripped over the tree branches and mountains, plus the warm gas fireplace, and I'd say we had the perfect scenic romantic getaway.  The only thing missing was my husband, hot cocoa, and Christmas carols.
On Friday we drove 10 minutes from our cozy Chataqua cottage to Pearl Street Walking Mall in Boulder.  Veda loved it, primarily because she could leap and bound across the wide brick pedestrian boulevard, stopping to climb over strategically placed rocks for toddlers and animal sculptures.  Who needs swings and slides when you've got rocks?  We also spent some time in the children's section of the Boulder Bookstore on Pearl Street, with lots of fabulous books and games to choose from, as well as little rocking chairs and a cozy atmosphere.  It was pleasant just hanging out for an hour or so browsing at things before we settled on a few new books for Veda.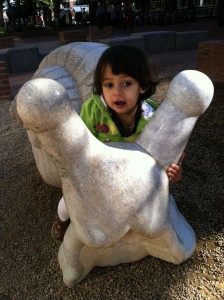 Over the course of the weekend we sampled some yummy food, including Nepalese at Sherpa's Kitchen (yum!), and packed a lot into a little less than our three days there.  We checked out the Boulder's World of Wonder (WOW) Children's Museum.  Although the weather was gorgeous most of our weekend, we had wone cold rainy afternoon, and Veda thoroughly enjoyed the tap dance studio, little grocery store, music room, train set, and sand box here for a few hours (and probably would have enjoyed staying longer).
We strolled through the pleasant Boulder County Farmer's Market Saturday morning and had brunch at the Teahouse.  We sat on a raised platform on pillows cross-legged, which Veda enjoyed enough that we had leisurely 2 hour brunch.  It's a beautiful, sublime restaurant with soaring colorful ornate ceilings and woodwork.  The entire building was built in Tajikistan and shipped over.  I had a hard time deciding what to order with options ranging from Indian Curry Omelette and Masala Dosa to Orange Foccacia French Toast.  The Chai latte is delicious.
We spent one afternoon strolling through Sanitas on a wide hiking trail.  The snow was freshly fallen and covering the pine trees.  It was just cool enough so the snow stuck, but warm and sunny enough to be comfortable to spend time outside.  I strapped Veda to me with my Onya baby carrier on my back and she took a long afternoon nap while we enjoyed the fresh brisk Colorado air.  I saw a mom pushing a baby in the stroller up a hiking trail and I was dumbfounded as to why someone would push a heavy stroller up a somewhat muddy hiking path instead of just strapping on baby like a backpack??
We also spent an afternoon at the Denver Aquarium.  It's definitely not the Shedd, but still really cool and worth a visit.  We were pretty excited to see the unexpected tiger come out for a feed in the rainforest exhibit (Veda wanted to "pet the meow").  Veda's favorite exhibit was the small little aquarium where we observed little fish that were burrowing holes in the rocky sand, sucking up rocks to make a deeper hole, coming out of the hole, than spitting the rocks out in a growing pile next to their hole.  I'll admit I was pretty fascinated myself.  She also insisted on trying out the hurricane simulator, which she wasn't so excited about in the end.
Visiting Boulder with toddlers or kids?  Check out more fun things to do outdoors and inside with toddlers and kids in Boulder here!