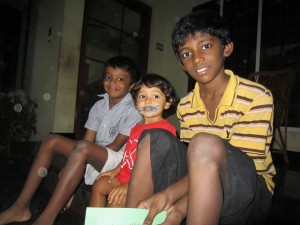 A week and a half ago we left southern India for South Africa.  I packed along three day packs of Flip hybrid cloth diapers, which I love for travel because everything dries pretty quickly.  Three days worth is 6 reusable diaper covers and 18 reusable cloth inserts (I didn't use or bring any disposable inserts).
I figured three days worth would be plenty, planning on washing the diapers every two days in India where I have a washing machine but not dryer.  That would allow me to still have one day's worth of clean diapers while the others are drying.
What I didn't plan for is that it would be monsoon season in August.  Usually the monsoons hit around June or July with relentless rains, and let up by August.  But thanks probably to our dear friend, Climate Change, August was what July usually is.  I'm not complaining- it cooled everything down, and there's nothing quite like sitting on the porch watching the serenity of the monsoons pour down.  My toddler enjoyed many delightful naked dances in the warm rains.
Although we did have some sunny days in India, most days it was constant rain, which meant that it sometimes it took three days for my diapers to have a chance to dry.  Hanging wet cloth pads on a line where there is constant moisture in the air takes forever to dry.
It ended up working out, somehow, and I never did actually run completely out of diapers (although once I just used my last clean cloth insert when I found a few other inserts to be -mostly- dried and useable.  However, I ended having to pack about 12 damp cloth inserts in my suitcase to South Africa because they were not dry before we had to leave to the airport.  It wasn't that big of a deal- they were still damp and a bit funky smelling when I unpacked them, but letting them air dry over night in dry South Africa did the trick to get rid of the moisture and funk.
If you are living or planning on traveling to a part of the world with monsoons or a relentless rainy season and are planning on using cloth diapers without a dryer, bear in mind that you may need at least four to five days of a cloth diaper stash to allow for extra drying time!
Now I have just a few more days left to enjoy being in South Africa with laundry service where I hand over the dirty diapers in the morning and get freshly cleaned and dried diapers returned to me in the afternoon.
Related Pages
All posts written about cloth diapering and travel
Flip Hybrid Diapers for Travel
How to Pack Cloth Diapers for Long Travel
How to Wash Diapers in a Foreign Country