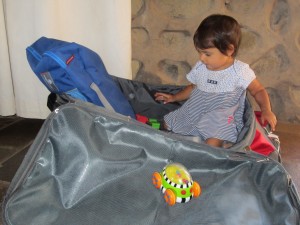 I am taking a trip tomorrow to Portland from Chicago with my almost 20 month old toddler, plus I am 13 weeks pregnant.  We'll be flying there Thursday afternoon, taking the red-eye back Monday night, so I'm planning and packing for about four days of travel by air at the moment.
I decided to take some videos to walk through some of my preparation and packing.
Video #1 is short and simple, focusing on what I intend to wear to make sure that my trip and flight is as comfortable as possible, considering that I am pregnant and breastfeeding my toddler.  It focuses on dressing comfortably and simply to make going through airport security easily, as well as how I will dress my toddler to ensure her comfort, as well.
Video #2 demonstrates all of the fun toys I am packing along for my toddler to keep her entertained at the airport and on the plane.  I am using a Trunki as her travel "fun bag," which she can sit on and ride through the airport, and which will easily fit under the seat in front of us.
Video #3 focuses on packing my carry-on bag, which will be shared by me and my toddler, including packing all the document, snack, and diaper essentials, and tips on how to keep things easily accessible for airport security and organized throughout the trip.
Video #4 demonstrates packing one suitcase for a four day trip, which will be shared by my toddler and I.  I want to ensure I am only packing one bag, both to make my life simple and easy for lugging bags by myself, and so I am not paying extra baggage fees on the way there and back.  I show how I organize my own and my toddler's belongings, from clothing to bath and bed gear.
RELATED PAGES
Packing for Baby Guide: 0-6 Month Baby
Packing for Baby Guide: 6 Month- 1 Year Baby
Packing for Baby Guide: 1 – 2 Year Baby
Packing a Travel Fun Bag for a Toddler
15 Essentials to Include in Baby's Carry-On
Never Leave Home Without a Health Kit
Streamlining Mom (or Dad's) Carry-On with Baby's
Stay Organized with Packing Cubes
Save Space with Compression Sacks
How to Pack Cloth Diapers for Long Travel
13 Baby Essentials That May Be Hard to Find When You Arrive
10 Tips to Simplify Your Cosmetics Bag
Traveling While Pregnant?  What to Pack?
Traveling While Pregnant?  What to Pack?
8 Ways to Make Flying While Pregnant More Comfortable
Is It Safe and Allowed to Fly During Pregnancy?