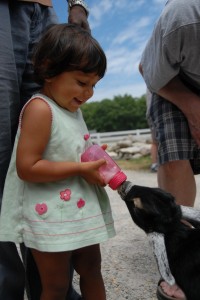 The Farm in Door County Wisconsin calls itself a "living museum."  Indeed, it is.  This past weekend we packed our 18  month old in the car and headed five hours north from Chicago to Egg Harbor, Door County to spend a couple of days with my dad for Father's Day.  On Saturday we took Veda to The Farm, just a few miles south of Egg Harbor.
Sometimes it's nice to break up the international travel we do and explore all that our own country has to offer.  Door County is a popular vacation destination for Midwesterners, famous for it's cherries and beautiful nature trails, beaches, etc. along Lake Michigan.  Plus, I'll admit, despite the fact that we will miss my husband dearly as he heads off to Pakistan and South Africa for all of July and Veda and I stay back, I am really relishing in having a small break from traveling to enjoy Chicago and the surrounding area this summer!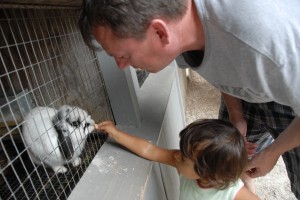 Upon entering The Farm we were handed a baby bottle with goat milk.  Veda held it in her hand and was promptly swarmed by several baby goats excited for a little suckle.  Although she was squealing with delight at first, she did get a little overwhelmed when numerous baby goats (kids is it?) rushed her.
She also fed corn kernels to bunnies and goats, kept her distance from some bull type of thing, and watched little baby chics squawking about.  She giggled at the glorious blue peacock, and quietly observed the nine piglets suckling the life out of the monstrosity of a mother pig, for whom I felt great empathy, laying there with her nipples being pulled and grappled with little piggy snouts in every direction.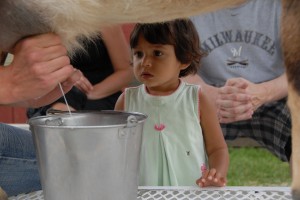 Veda was also mesmerized by the goat milking demonstration.  She even got in there and gave the goat's nipple a little squeeze herself, delighted to see a little stream of milk hit the tin bucket.  I wonder what was going through her mind.  I imagine perhaps these could be some random 18 month old thoughts about goat milking: That nipple is really hairy!, Wow, that's a lot of milk coming out of there all at once!  How come I can't squeeze my mom's milk out into a bucket?  Maybe I can?  How do I fit my head under there for a taste?  I digress, realizing how much of this farm visit involved milk and nipples, my toddler's favorite things.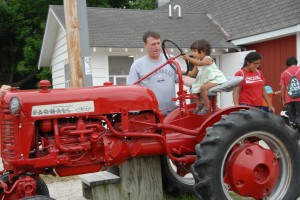 One of her favorite things at The Farm happened to be the bright red tractor that she sat on.  She wasn't too thrilled when a goat tried to climb up the tractor, or when another child tried to sit on it, even when we were on our way to look at some cute kittens.  I guess we're really entering the "mine" stage now.  She also enjoyed riding around in one of the classic Red Flyer wagons left around The Farm Grounds for use.
Just as we take her to India a couple of times a year to stay connected with her family and culture there, so too do we take her on excursions to her other Motherland, Wisconsin, to bask in the glory of the idyllic farm life.  The Farm is a lovely place to get in touch with her heritage :).
And on a more serious note, Door County is an absolutely delightful place to visit.  If you live in the area or out of the country and find yourself on a Discover America tour, Door County is a definitely a beautiful place to consider on the agenda.  It's a family-friendly place dotted with quaint little villages with at least one homemade ice-cream shop in each one.  There's sailing and kayaking, hiking and swimming, plus myriad of festivals to honor cherry-picking and the farm culture.