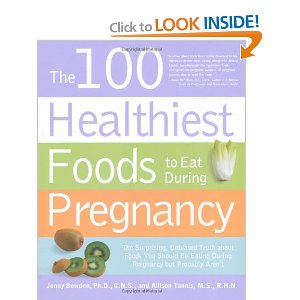 In celebration of Pregnancy Awareness Month (May 2012), I am going to have a series of give away raffles for all of you traveling pregnant mommas May 26- 31.
Today's give away is a pregnancy nutrition book, The 100 Healthiest Foods to Eat During Pregnancy:The Surprising Unbiased Truth about Foods You Should be Eating During Pregnancy but Probably Aren't.
Eat the best foods for your baby's development!
 Nutrition is never more critical than during pregnancy. What you choose to put on your plate affects you and your baby's health not just in utero but for years to come. However, many nutritional guidelines for pregnancy are complex, confusing, and offer an uninspiring list of things to eat for the next nine months.
Backed up by the latest nutritional research, this guide debunks pregnancy food myths and uncovers a number of surprising food choices that are superfoods for expectant mothers.
To enter into the give away, just leave a comment below this post with your email address.  One winner will be randomly selected and announced one week from now on June 6, 2012.
The winner of the give away will be notified on June 7, 2012, and the nutrition book will be shipped or wirelessly delivered by June 8, 2012.  For those of you that live within the contiguous U.S., you may choose either a hard copy or the Kindle edition.  For those of you living anywhere in the world that has a tablet, you may receive a Kindle edition ONLY (sorry!).
To receive notifications of a future give away this week and in the future for baby, pregnancy and travel gear, follow me on Facebook, Twitter, or Pinterest, or subscribe to receive email notifications- you can find it on the sidebar to the right!
Check here for another give away.
Related Posts
GIVE AWAY: Motherlove Pregnant Belly Salve
GIVE AWAY: Prenatal Yoga DVD with Shiva Rea
GIVE AWAY: Boppy Prenatal Sleep Wedge
Traveling While Pregnant?  What to Pack?
Reproductive and Travel Friendly Clothes (Spring 2012)