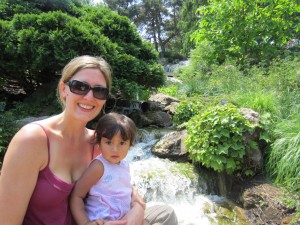 When we are home in Chicago taking a break from traveling I enjoy becoming reacquainted with how wonderful a place this city is to raise kids.  There's so much to explore and so many free activities geared towards kids in Chicago.
Yesterday I wanted to take Veda somewhere outdoors, so I glanced at the Chicago Botanic Gardens calendar of events.   I was thrilled to see that there was a Japanese Garden Children's Festival going on this past Saturday and Sunday.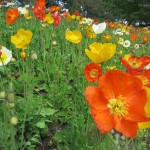 I was particularly keen on spending the day somewhere surrounded by flowers, and preferably something that might offer music.  Yesterday was the expected due date for my son that I lost at the end of this past December at 20 weeks pregnant.  I was incredibly overwhelmed with a sense of loss yesterday, imagining how different things would be right now if we were welcoming home a healthy baby boy.  I can't imagine a more lovely way to spend the day with my daughter surrounded by sunshine, flowers, and sublime Japanese koto harp and flute music.
Since we don't have a car and the Chicago Botanic Gardens are located in Chicago's northern suburbs, I strapped Veda to me with my beloved Onya Baby and simply jumped on a Metra train and in 45 minutes I was at the gardens ($7 round trip).  You can bike to the garden from Chicago, too!
This was my first trip to the Chicago Botanic Gardens, and I was impressed.  One could easily spend the day strolling around the sprawling gardens (map here).  Spring is a lovely time to explore!  The gardens have several small islands with connecting bridges.  Veda loved the waterfall garden and the numerous water sculptures that she and lots of kids had a blast splashing in to cool off.  The gardens were alive with poppies, irises, and roses.  Each garden was sprawling enough that I felt I was transported to another place.  The Japanese Gardens in particular are extensive, filled with bonsai trees and an island, as well as the English Gardens.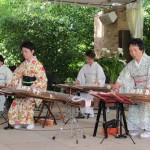 Veda really enjoyed the Japanese Garden Children's Festival activities.  She colorfully painted two sides of a paper carp kite with a string attached and delighted in watching in flutter in the breeze.  The koto harp and flute performances were lovely and sublime, although Veda didn't hold back from dancing to it.  She also loved the little table that was set up with plastic food where she could try using chop sticks.  There were many other activities that slightly older kids would appreciate, including making a paper kimono or samurai helmet and story telling.  Older kids and adults might have also enjoyed shopping for a miniature bonsai tree on display!
If you live in the Chicago area or are contemplating a family vacation to Chicago, I highly recommend checking out the events calendar and family activities that the Chicago Botanic Gardens has planned, as there seems to be something almost every day, from planting and growing a raised garden as a family to workshops and story telling time.  They also have exhibitions, including a beautiful photography exhibit on display yesterday, as well as photography and birding.  And it's all free!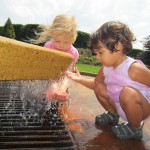 Related Pages
Dolphin Shows, Botanical Gardens, and Beaches (South Africa)