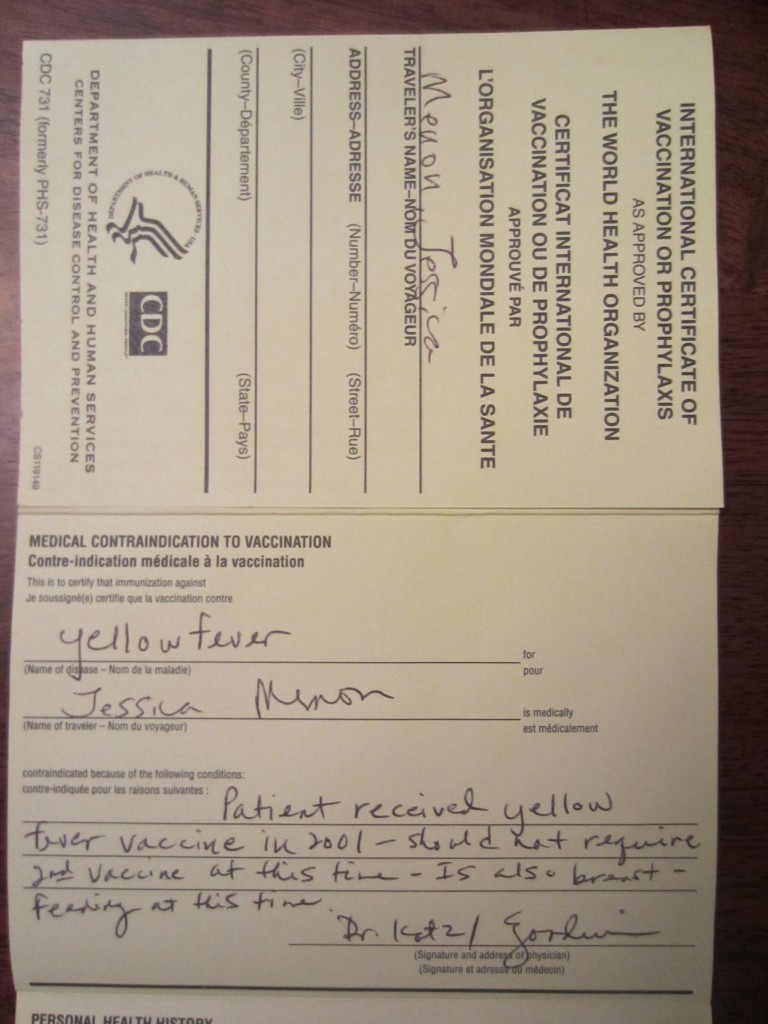 In a few weeks I will set off to Haiti with my toddler and my newborn, both of whom are still nursing (aggressively).  After that we'll also be traveling to Sri Lanka, India, South Sudan, and Kenya for a good part of the year into July.  In South Sudan, there have already been 40 confirmed cases of yellow fever this year.
For anyone who has traveled to some countries in Asia and Africa, proof of yellow fever vaccination may be well-known as a requirement to obtain an entry visa, or may be checked in order to pass immigration.  For travelers who do not have proof, they may be forced to receive the vaccination at a health clinic inside the airport (usually with a high price tag) before entering the country.
Check out the list of recommended and required yellow fever vaccination countries here.
Getting the yellow fever vaccination is something that is not only required for many sub-tropical countries, but is generally a good idea to get.  The disease is transmitted through mosquito bites; at its mildest it can cause a mild flu-type illness that eventually passes, but at its worst it can cause multiple organ failure and result in death.  There is no treatment for yellow fever, either.
Check out the Center for Disease Control (CDC)'s web page on yellow fever here, including information on the symptoms, treatment, and the vaccination.
I had the yellow fever vaccination back in 2001 before I traveled to South America.  Technically, a booster is recommended every 10 years.  However, studies point to evidence that the vaccination, which is 100% effective in preventing yellow fever, is actually effective for 30 years.  So, I should be good.  However, there is a high likelihood that I will be required to show evidence of my yellow fever vaccination at some point in my travels, especially following my trip to South Sudan.
I have three problems: 1) I lost my old yellow fever card, and since it was given to me over a decade ago, it might not be accepted, anyway; 2) it is recommended that nursing mothers not receive the vaccination (along with pregnant women and infants under nine months of age); and 3) I have been in a perpetual state of pregnancy or breastfeeding since 2010, and since we plan on having two more children, will most likely be either pregnant or breastfeeding for the next 6-8 years (yikes!), so it will be a while before I can safely receive the vaccination.
Check out the CDC's information on who should not receive the vaccination here.
Not enough research has been done to really determine how safe it is to take the yellow fever vaccination when breastfeeding or nursing, and there have been two documented cases of breastfeeding infants that have had neurological damage attributed to the yellow fever vaccine after their mothers were vaccinated.  The vaccine is a live virus, so it can potentially do some serious damage to a little baby.
The CDC states "Yellow fever vaccination has not been known to cause any birth defects when given to pregnant women. Yellow fever vaccine has been given to many pregnant women without any apparent adverse effects on the fetus. However, since yellow fever vaccine is a live virus vaccine, it poses a theoretical risk. While a two week delay between yellow fever vaccination and conception is probably adequate, a one month delay has been advocated as a more conservative approach. If a woman is inadvertently or of necessity vaccinated during pregnancy, she is unlikely to have any problems from the vaccine and her baby is very likely to be born healthy."
I called several travel clinics who told me I shouldn't travel if I am breastfeeding (what!?), that I shouldn't receive the yellow fever vaccination, and were generally super judgmental of me for taking my children to places with so many diseases.  It's not like I'm vacationing in South Sudan- I am going their for my job.
Luckily, the travel nurse and doctor and the Children's Memorial Travel Clinic here in Chicago were helpful.  The doctor said that since I already had the yellow fever vaccine in 2001, I should be protected against the disease for the next two decades.  He then signed a yellow fever card for me, stating that I shouldn't receive the vaccination since I'm breastfeeding. That wasn't so hard, was it?  So, now I have reassurance that I am protected against yellow fever, and a yellow card that may or may not get me into a couple of countries, but hopefully that will do the trick.
If I had not been previously vaccinated against yellow fever, I would be worried, but I still wouldn't risk getting the vaccine pregnant or breastfeeding.  All of the places that have yellow fever also have malaria, so I am going to need to take precautions against mosquito bites, any way.  That means wearing long sleeves and pants, staying in closed and air conditioned sleep places, and wearing mosquito repellent.
Of course my one month old, who will be around six months by the time we reach South Sudan, is too little to have any  travel vaccinations beyond immunoglobulin, which is just a general immune booster.  He will also be taking 1/8 tablet of Mefloquine weekly as an anti-malarial).  Plus, he has my breast milk to also give his immune system a boost, plus he won't be eating solid food or drinking water when we're traveling, so some things won't be as worrisome as others (like cholera in Haiti), but I'll definitely be quarantining both my children in air-conditioned close spaces, plus bed nets, plus long sleeves, plus baby-safe mosquito repellent to be extra careful.
The bottom line, though, is that if you are breastfeeding or pregnant, and you must travel to a place where there is a risk of yellow fever, it may be advisable to take mosquito precautions rather than get the vaccine- just in case.
Related Pages
Sunscreen Recommendations for 2012
Never Leave Home without a Health Kit
Six Reasons to Choose Breastfeeding on the Go
Five Tips to Practice Water Health Safety with Baby
New Anti-Malaria Prevention and Treatment Recommendations for Pregnant Traveling Mommas