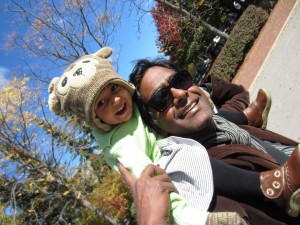 My husband and I are both leaving to Pakistan in about a week.  We're working together on the same project there (let's hope our marital bliss will see us through to the end of the project!).  We decided that this time around we will leave our two year old home in Chicago as we set off.  I know that it will be okay, but I can't stop from being anxious, regardless.
My husband is going for about two weeks.  I am making 10 days my limit- this just seems like the magic number of days that I just can't go another day without my daughter (notice I didn't say the number of days she can't go without me).
This will be the first time that both my husband and I are leaving for a trip without her.  She has traveled with us to over  7 countries globally on over 2 dozen trips as we traveled for work over her life.  My husband has traveled without us several times, and for the first time last month my husband and daughter were solo for almost two weeks without me.  But this will be the first time that both mom and dad take off.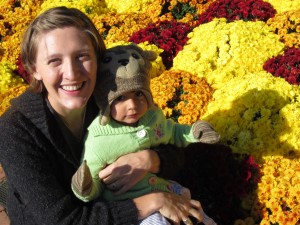 We decided that this time around it would be best.  First, it is a relatively short trip, and both of us are going to be incredibly busy with work.  Second, we are going to Pakistan with security concerns so if we brought Veda she would basically be stuck in our guest house the entire time, and probably get really bored.  In Chicago she has at least one class a day between ballet, soccer, French music, swimming, and tumbling.  Plus there's the Shedd Aquarium and Chicago Children's museum to keep her busy.  She'll just have more fun at home.  Third, we have to prepare quickly for an eminent departure, and trying to secure visas and travel arrangements for her and the nanny would be both a huge logistical nightmare and a huge cost, especially now that Veda requires her own seat.
Luckily, my mother is available to come and stay in Chicago with Veda. Our fabulous, wonderful nanny has also agreed to move into our house while we are away- so Veda will have two people in the house that she loves, is comfortable with, and that we trust with her.  This makes it easier to leave.
Here is what I am doing logistically to prepare for mom and dad being away from our toddler:
1) I am arranging a personal chef service to cook healthy lunches and dinners for Veda, my nanny, and my mother while we are away.  It's actually not that much more expensive than buying groceries, and than I have peace of mind that everyone is eating well.  We certainly aren't wealthy, but to me it's worth the small additional expense.
2) My husband and I both signed a medical consent authorization form granting authority to both my mother and nanny to authorize medical treatment for Veda.  I have left this along with our insurance card and Veda's birth certificate in a folder.
3) I have left emergency phone numbers, pediatrician and Children's Hospital phone numbers and addresses, and directions on when to call whom.  I have also left phone numbers of other close friends that can be contacted in the event of an emergency.
4) Even though the nanny and my mother know Veda well, I have left detailed notes on everything from how to wash her cloth diapers, her favorite bed time songs and stories, typical meal times and favorite foods, and what to do if she complains of a tummy ache.  It also includes the class times, locations, and directions on how to get to all of Veda's scheduled classes.  The title of this document is "Guide to Surviving Veda."
5) I have left detailed notes on the house, from where to take out the trash and how to operate the dishwasher to how to open the windows top down for safety and turn off our steam heat radiators if it gets too hot.
6) I bought a new small manual breast pump.  My Lansinoh handheld manual pump traveled the world with me and held up remarkably, but I am now missing some parts.  We are also expecting our baby boy in the next 6-8 weeks, so I need a new one anyway.  I just purchased a new one so I can easily pump and dump while I am away to keep my milk supply going.  I am not leaving any pumped milk behind.  Breastfeeding at this point is more for comfort than anything for my daughter.  But I do want to continue breastfeeding after I return.
7) We got our nanny a credit card linked to our account that is in her name.  That way she can buy groceries or incidentals as needed and we don't have to worry about her having enough cash to do so.  It's also good in an emergency.
8) Yes, this one is morbid, but practical.  Both my husband and I are, after all, getting on an airplane together and going to a country with security concerns.  So this week we are having our wills drawn up, including identifying whom will have legal guardianship for Veda if something should happen to both of us.  It's best not to ignore potential calamity- just in case.
Here is what I am doing emotionally to prepare for mom and dad being away from our toddler:
1) I started talking about mommy and daddy going away for a little while.  I talk about it every day.  I tell her we are going to leave on an airplane (and she sadly says, "Veda too?"), but that we'll be back really fast.  I tell her we love her and want her to have lots of fun at home while we go bye-bye.  I tell her the nanny and "nina" (what she calls my mother), are going to stay with her and have lots of fun with her.  Every time I talk about it she seems to understand, and does express some slight anxiety (she says "Veda too," "Veda airport," and wraps her arms tightly around my neck).  However, she understands things a lot these days, and I think it's better to prepare her and talk about it rather than just disappear one day for almost two weeks.
2) We have Skype set up on the Kindle Fire that Veda uses.  We will make sure to get lots of daily face time on Skype with Veda so that she knows we are still "present" in her life."
3) We have asked that some close friends that Veda knows, is comfortable with, and enjoys, to pop in for visits to provide more consistency and a little love network for her while we are away.
4) We have reinstated the "no boobies when the moon is out" rule.  My daughter still likes to breastfeed to sleep and still wakes in the night to feed.  This week my husband has full bed time and night rousing duties.  We hope this make for an easier transition next week when I am away so she is not even more upset by my absence when she wakes to find no boobies available in the night.  It will also make it easier for my nanny and mother to comfort her.
5) I have purchased and wrapped small gifts for her each day we are away.  I am talking about individually wrapped markers, stamps, stickers, kid binoculars, a Dora the Explorer plate/ bowl set, coloring book, bed time story book, etc. These are little wrapped gifts that I want her to open each morning.  She will be told it's from mommy and daddy and that we'll be home soon.  Usually we have lots of cuddle time each morning, and although stickers certainly can't replace that, I hope that her anticipation and the little joy I know she'll get from the little presents will start the day okay without us, remind her that we aren't there but are "present" and coming back, and that hopefully will provide her with a little positive distraction from the separation anxiety or sadness she might be feeling.  We are also, sadly, missing her second birthday on Dec. 7.  She doesn't realize this at this age, but it's a bit difficult for us being away from her for this huge milestone!  So, the little presents are also my way of quietly honoring her birthday each day until we get back and can have a proper celebration.
6) Although we haven't begun packing yet, we are going to do it this week while she is napping or away from home at a class.  She knows the packing drill well by now and usually starts packing her Trunki with toys and putting things in a suitcase.  I am going to keep the suitcases out of her sight, even on the day we leave, because I know it will only result in lots of tears and a meltdown when she realizes she isn't packing a suitcase and coming with us.  Talking about leaving is one thing, but I really think the visual of the suitcase will be too much for her.
I know that there will be tears, on my end and her end, although based on my first separation from her last month for work, I am pretty confident that there will be more tears on my end than on hers.  She will be just fine.  She is a busy little bee and will be surrounded by people that love her dearly and lots of fun.  But this is still another experience of growing pains for my husband and I as parents.
Related Pages
I Wish I Were Homeward Bound: Two Weeks Away from My Toddler
The Art of Hand Expressing Breast Milk