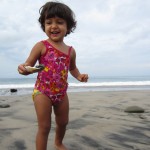 This past weekend I took a break from my grueling work schedule in Managua, Nicaragua to enjoy a weekend in Rancho Santana with my husband and toddler.  This was a welcome little weekend interlude since my husband left back home to Chicago with my daughter a couple of days ago, leaving me alone to my work in Managua for two weeks in what will be the first time I have been separated from my 22 month old for more than a night (the subject of my next blog).
Rancho Santana is a 2.5 hour drive from Managua, and was suggested as a must-see/do by a colleague here that lives in Nicaragua.  We were a bit hesitant at first to rent a car here, not being familiar with how the roads, signs, and maps would be here in Nicaragua.  Our worst fear was ending up on the wrong road when night falls.  But we went for it anyway, and it worked out quite nicely- there are at least large signs for major cities we knew we had to hit along the way (provided by detailed directions from Rancho Santana such as "take the fork in the road to the right at the base of the volcano).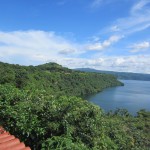 The drive itself was actually lovely- Nicaragua is a lush green tropical country, the "Land of Lakes and Volcanoes."  On the way from Managua to Rancho Santana we drove past beautiful lake and mountain vistas, orchards and fields filled with happily grazing cows and abundance of green everywhere.  It is an incredibly picturesque country.
Rancho Santana is a huge private property that boasts five lovely beaches, hiking trails through mountains, and tons to do- including horseback riding, nature walks, bird watching, snorkeling, diving, surfing, and morning yoga on the beach.  We stayed in a lovely villa with a terrace walking out to beachfront.  It's definitely in the category of luxury eco-tourism at it's finest, which we were happy to splurge on for a little weekend getaway as a family before separating.  Although, we encountered numerous families that are staying there for weeks or months on end- there's even a pre-school on the premise!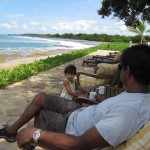 The sunsets are breathtaking there, the food delicious (Michellen-rated chef!), and if you're into seafood they serve up fresh Mahi-Mahi and other catches of the day, prepared with local fruits and spices including papaya, pineapple, and ginger- yum!  My toddler was particularly excited about the chocolate chip pancakes for breakfast (and mommy was pretty stoked about the pina colada French toast).
Our daughter absolutely loved wandering around on the beaches and footpaths through trees.  Here's a video walking near the ocean, and another on a lovely footpath.  After a week being hold up in a hotel room in Managua, we could almost see her unravel before us- her entire cloudy mood she had adapted in Managua dissipated and the smiley, bouncy little girl I know so well seemed to return as she breathed in the great outdoors.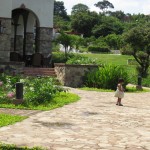 Okay, the pool helped, too (Check out the YouTube video of me and Veda playing- it's gorgeous).  It's a lovely place to hang out, surrounded by tropical flowers and palm trees and views of the ocean.  Plus, it's fantastic for kids as the shallow end has a slow gradual decline, plus an area with a fountain she could climb on/ sit on (and jump off, which she of course loved).
The only thing that was a bummer about Rancho Santana was having so little time to enjoy there.  The living spaces offered (from 2 bedroom villas to six bedroom houses) for rent are spacious and have fully equipped kitchens (stove and oven, blender, cooking utensils, etc.).  Kitchens are essential when traveling for more than a few days with a toddler we've realized.
Rancho Santana is definitely a place we plan on visiting again for a couple of weeks at a time to really take advantage of what it has to offer.  Given the numerous families we encountered there with small children and babies, it seems to be a popular and comfortable destination for families with little ones that want to enjoy  la naturaleza sprinkled with luxury :).  Plus, a round trip flight from Chicago during low season is about $500 per person and it's only a 2.5 hour flight from Miami, so it's pretty affordable with very manageable short flights to get there.
Stay tuned for a post on Granada, Nicaragua which is a beautiful coastal colonial town drenched in history, being away from my daughter while I work (and how the separation is going for both of us), frantically fearing the end of my breastfeeding relationship with my toddler as I find myself without a good pump and two weeks away from suckling, as well as my husband's experiences using Flip hybrid diapers on the trip, being holed up at the Intercontinental Hotel in Nicaragua with our 22 month old for a week, flying solo with a toddler as a dad, and how he and my toddler are adjusting to live without mommy for the first time ever.