Is the sunscreen you use on baby safe, or is it actually putting baby at risk for toxins, allergies, skin cancer, and lung damage?  We slather, wipe, or spray sunscreen on our babies and toddlers in an effort to protect them from the harm of sun, such as skin cancer and burn, but some of the products- made for babies- on the market actually do more harm than good.
Check out the Environmental Working Group's 2012 Hall of Shame of Children's Sunscreen's that Fail their safety test.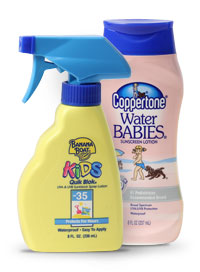 An estimated 65 sunscreens advertised for babies and kids contain oxybenzone, a synthetic chemical that absorbs the sun's rays but also disrupts the body's natural hormones and can cause allergic reactions.  Typical offenders include:
Banana Boat Kids Quik Blok Sunblock Spray Lotion, SPF 35 – 4% oxybenzone
Coppertone Water Babies Sunscreen Lotion, SPF 70+ – 6% oxybenzone

Almost 40 sunscreens advertised for babies and kids contain retinyl palmitate.  When applied to sun-exposed skin, it may actually speed development of skin tumors and lesions.
Common offenders include:
Banana Boat Baby Tear Free Sunblock Lotion, SPF 50+
Arbonne Baby Care Sunscreen Lotion, SPF 30
Australian Gold Baby Formula Lotion Sunscreen, SPF 50+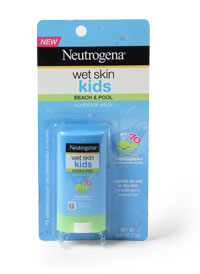 Some SPF products may protect baby from sunburn caused by UVB rays, but it may still leave baby vulnerable to skin-damaging UVA rays.  Parents who see a high-SPF label on a bottle may think it's safe to allow kids hours of sunburn-free beach time, not seeing a burn and thinking that results in protection from skin damage and cancer down the line.  The FDA wants to limit SPF claims to "50+" to cut down on the false sense of security  higher numbers like this can impart:
Neutrogena Wet Skin Kids Beach & Pool Sunblock Stick, SPF 70
EWG recommends avoiding products labeled higher than SPF 50. Reapply sunscreen often regardless of SPF to protect baby not just from an immediate burn but from long-term skin damage and cancer.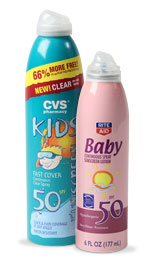 Aerosol spray sunscreen packages will soon be required to display FDA-mandated warnings such as "use in a well ventilated area" and "intentional misuse… can be harmful or fatal." These cautions highlight growing concerns that sprays pose serious inhalation risks. Spray sunscreens also make it too easy to miss a spot, leaving bare skin exposed to harmful rays.
Two aerosol sprays marketed for babies and kids:
CVS Kids Fast Cover Continuous Clear Spray, SPF 50
Rite Aid Baby Continuous Spray Sunscreen Lotion, SPF 50

Loose powder sunscreens emit a plume of airborne particles. When inhaled, they can potentially damage the lungs over the long term. If there's a chance you can breathe it, don't buy it.  Some brands of loose powder sunscreens contain particles of titanium dioxide, which the International Agency for Research on Cancer has classified as "possibly carcinogenic to humans" when inhaled. Powdered sunscreens may also contain nanoscale and micronized zinc oxide, which can cause lung inflammation and worse.
GO!screen Natural Mineral PowderBlock Brush-On Sunscreen, SPF 30 is advertised as "great for kids" on the front of the bottle. It contains zinc oxide particles.
EWG recommends that sunscreen users stay away from inhalable products – sprays and powders – and use creams and lotions instead.
For some brands, the only differences are on the label – not inside the bottle. EWG found that 16 brands in this year's crop feature products that list the same ingredients for both baby and adult sunscreens – down to the exact amounts of active ingredients. Among them:
Aveeno Baby Natural Protection Mineral Block Sunscreen Lotion, SPF 30
Aveeno Active Naturals Natural Protection Mineral Block Sunscreen Lotion, SPF 30
Coppertone Kids Sunscreen Stick, SPF 55
Coppertone Sport Sunscreen Stick, SPF 55

So what are the best sunscreens to slather on ourselves and our precious little babies?  EWG recommends using a hat and shirt as the best, safest sun protection :).  When you do have to expose yours or baby's skin to the skin, EWG recommends selecting sunscreens with broad spectrum (UVA and UVB) protection with fewer hazardous chemicals that can penetrate the skin (which is the body's largest organ that absorbs stuff directly into the blood stream).  All of EWG's top-rated products contain either zinc or titanium minerals to filter UVA rays.
EWG rates hundreds of thousands of products, including sunscreens, on a scale of 0-10, 10 being the most toxic and cancer-risk products you can buy, and also rates them by cost ($= cheapest, $$= moderate cost, $$$= most expensive).  
Check out the 195 safest and most effective sunscreens
that score 1-2, which includes one of my favorites, California Baby SPF 30+ sunscreen stick, rated a 1.
The Environmental Working Group (EWG) is a non-profit organization, founded in 1993, advocates on Capitol Hill for health-protective and subsidy-shifting policies.  EWG specializes in providing useful resources (like Skin Deep and the EWG's Shopper's Guide to Pesticides™) to consumers while simultaneously pushing for national policy change.  EWG's Organizational Goals are to: 1) To protect the most vulnerable segments of the human population children, babies, and infants in the womb from health problems attributed to a wide array of toxic contaminants; and 2) To replace federal policies, including government subsidies that damage the environment and natural resources, with policies that invest in conservation and sustainable development.