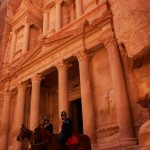 We spent a lot of time in Jordan in Veda's first year of life, and we took full advantage of the weekends to explore all the country has to offer, including Petra, one of the Wonders of the World.  When Veda was four months old we strapped her to us and explored the ancient city of Petra.  My dear friend, Laura, was visiting us in Jordan, so Veda also got to enjoy the company of her Auntie on our excursion, too!
It is estimated that Petra was established around 6th century BC by the Nabataeans.  As their capital city built into the rocks, it provided a secure fortress while also serving as a centrally located trade route to other areas including Gaza, Damascus, and the Persian Gulf.  Petra has a rich cultural history, inhabited, occupied, and developed at different times by the Egyptians, Romans, and Greeks.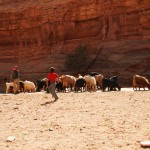 Petra is indeed an incredible sight, and one could easily spend a day or two meandering through the ancient city.  If you really want to explore the entire city, it does require climbing up and down steep stone stairs.  It's not wheel chair accessible, and forget about using the stroller.
As an infant, it was easy to wrap Veda to us as we explored the city.  My husband and I took turns wearing Veda, who napped on us and comfortably breast fed on me as we walked around.  We changed diapers in small enclaves on top of boulders.  I also wouldn't hesitate to bring Veda now, at 18 months, who I would carry on my back in our Onya Baby.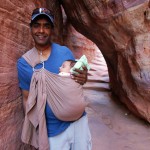 It might be challenging to bring children that are a little too big to carry, and a little too young to spend a long day in the hot sun walking up and down rocks (say ages 3-6).  It would be an exceptionally rewarding place to bring an older child you might appreciate learning about some of the rich history Petra has to offer, will remember it when he or she is grown, and has the energy to spend the day hiking.
What we really enjoyed about bringing Veda to Petra was the warmness of the locals toward her.  There is a manageable amount of unobtrusive locals selling handicrafts and locally-made goods for tourists to purchase.  So many were throwing necklaces and bracelets at Veda with wide smiles yelling, "For free!  Take!  Protect against Evil Eye!"  They genuinely wanted to give Veda a gift to protect her, and refused money in exchange (of course I felt obligated to purchase something else from them, any way).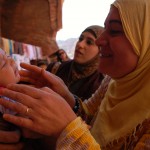 A group of young pre-adolescent girls followed us around and chatted with us, asking to hold Veda, cooing in her face.  The Bedouin tribal culture prevalent around the Petra area is certainly one to be respected for their warmth and peacefulness.
Petra is a wonderful and doable place to visit with a baby, as long as you are moderately fit and are willing to forgo a stroller for the day.  Other lovely places to visit in Jordan include the Wadi Rum Desert, the Dead Sea, and the downtown Amman market.  Just don't forget a good sun hat and sunscreen!
Related Pages
Waddling Through Wadi Rum Desert