I am posting this link here to a blog at DeliciousBaby.com that explains the warning.  A 5 month old very tragically died in the PeaPod portable bed, which an autopsy confirmed was from suffocation, not from SIDS.
Although I have never used the PeaPod myself since I have co-slept with my baby since she was born, I had read great reviews about this product and had recommended it on my blog previously.  Based on this tragedy showing that the bed may not be safe for infants, I am updating my previous blog accordingly to warn parents.
Please also spread the word to other parents that may use or may consider using the PeaPod portable crib.  This is an incident that shows why safe co-sleeping habits (as long as you are not medicated, taking drugs, or drinking), might be a safer option for baby while traveling.  My heart goes out to Dr. Christine Whelan.
Also, I know that at least two Kidco Peapods were ordered from Amazon.com from people who visited my site, clicked on the link, and purchased the product.  If you are a regular blog reader or see this post, please email to let me know if you purchased this product so I know that if you did you have seen this warning and will hopefully return the product and discontinue use.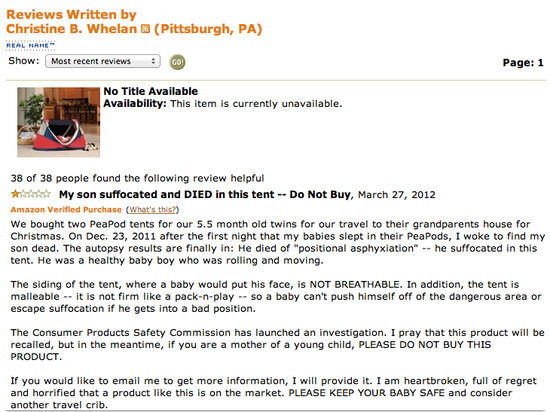 Related Pages:
Where Does Baby Sleep While Traveling?