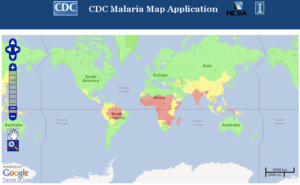 Hey pregnant mommas living in or traveling to malaria hot spots!
The CDC is now recommending the drug, mefloquine, for malaria prevention and treatment for pregnant women in all trimesters.  Previously this drug had not been recommended for pregnant women, but this has changed due to the FDA re-categorizing the drug from a Class C to Class B drug for pregnancy.
New published data show that women who took mefloquine at various doses during pregnancy did not have an increased risk of birth defects or other adverse pregnancy outcomes compared to the the general population.  Conversely, malaria infection in pregnant women can be more severe than in nonpregnant women, increasing risks for adverse pregnancy outcomes, including prematurity, spontaneous abortion, and stillbirth.
To learn more about the new recommendations, visit the CDC.
Thank you, Amy in Uganda, for sending the update!
Related Pages:
8 Ways to Make Flying While Pregnant More Comfortable
Is It Safe and Allowed to Fly Pregnant?
Prenatal and Postnatal Exercise on the Go
Eating Healthy During Pregnancy While Traveling in Foreign Countries