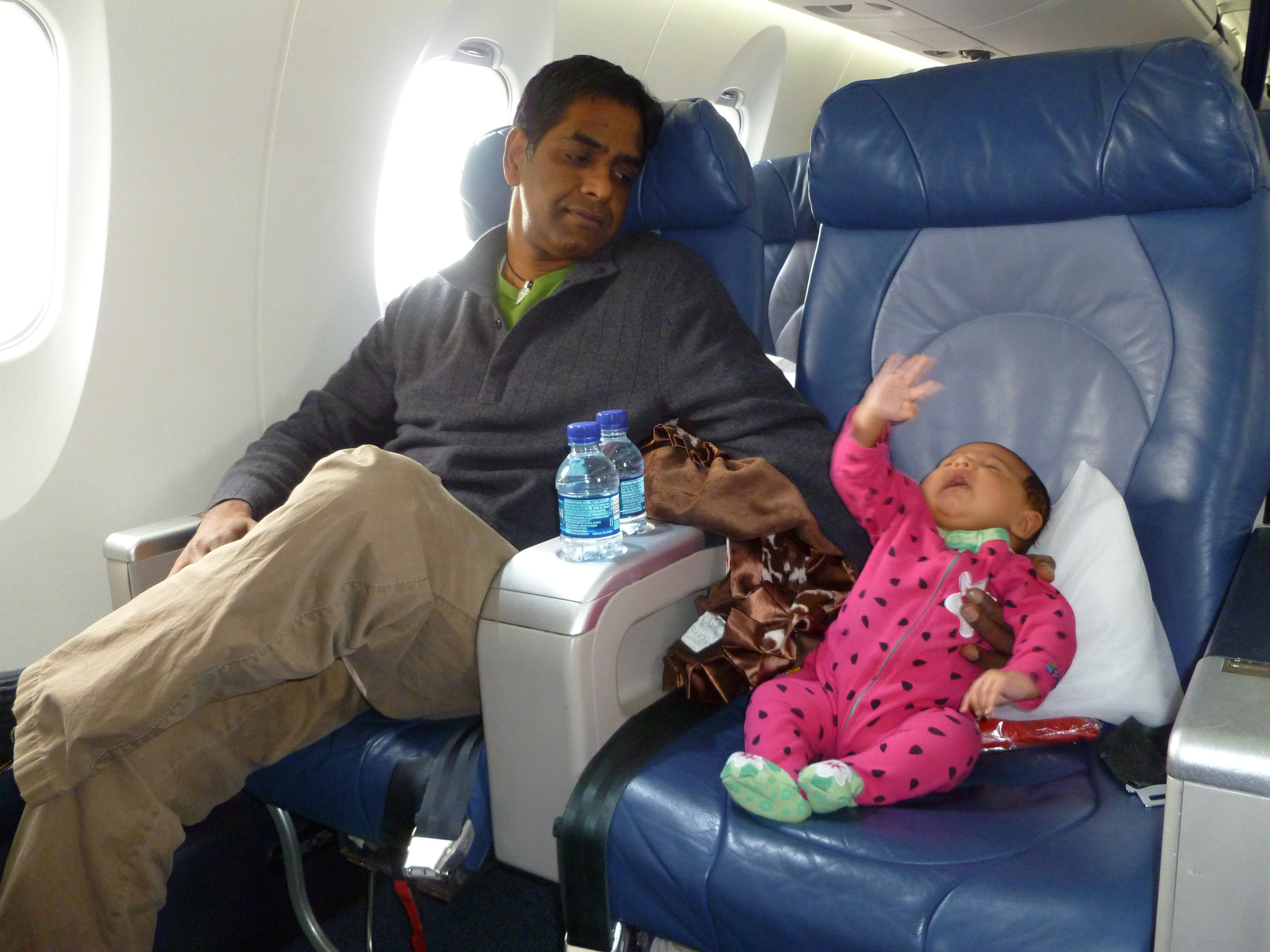 Smaller babies, let's say newborn to six months, are significantly easier to fly with than older babies and toddlers, primarily because they spend much of their time sleeping and are not yet mobile.  As long as your baby is healthy and your pediatrician approves travel, it is safe to fly with a newborn as early as one week after birth.  Take advantage of this time traveling with a young baby, and enjoy it, because soon you'll have a mobile baby eager to explore and difficult to contain!
1) Request an infant bassinet in the bulkhead.  Even if you plan on holding baby most of the flight, it's really helpful to have the extra safe space to put baby while you are eating or getting things from the overhead compartment or diaper bag, especially if you are flying solo with baby.  It's also made a convenient spot to put my diaper bag during flights, and it's nice not to have someone throwing their chair back while you are breastfeeding.
2) Use a baby wrap on the plane.  Especially if you are breastfeeding, this is a great option to keep baby snug, cozy, and sleeping on the long haul.  My babe has slept for an entire 12 hour flight take-off through landing.  Baby was well-rested when we arrived, and it was nice to catch up on a couple of movies!  A baby wrap also helps lighten the load as you can really skip the stroller when baby is very young so it's one less thing to worry about that during security, gate checking it, etc.
3) Keep diapers, wipes, and changes of clothes easily accessible.  When you are changing baby on the plane, you have very little room, and those airplane bathrooms are not very clean.  Especially if you are flying solo, it helps to keep diaper changing essentials easily accessible.  I would just take out the diaper changing pad, a few diapers, wipes, and a change of clothing and keep them under my seat or close to me.  When Veda was an infant I often went through more than one diaper change and a change of clothes during a diaper change because she would go to the bathroom just as I was changing her, so I always made sure to have an extra diaper and change of clothes so I wasn't stuck in the airplane bathroom with a baby full of poo and no clean diaper and outfit.
4) Bring a few toy essentials.  Bring a few things baby loves, like a rattle, teething ring, etc., but don't overdo it.  Very small infants are not going to spend a lot of time awake and playing, plus their favorite toys at that age are generally mom and dad, anyway, so save on carry-on space and weight by just taking a few favorite toys.
5) Breastfeed on descents.  Out of over a few dozen flights, we've only had a couple where my baby has refused breastfeeding or sucking on anything and so spent the descent screaming. It's a sad thing to watch your child in pain from the ear pressure and being generally helpless.  I try to time it so that I begin breastfeeding as they turn the seat belt signs on and begin descent.  She often happily nurses and falls right asleep (so it helps to have her wrapped in a baby wrap so I don't disturb her sleep as I gather my things and get off the plane).  If you aren't breastfeeding, offer a bottle, pacifier, or anything else baby likes to suck on as the plane descends.
Related Pages:
20 Things to Play with a Toddler on a Plane- Compliments of the Plane
How much does baby's airline ticket cost?